Choteau Public Schools will convene for the new school year on Tuesday, Aug. 30 with an estimated enrollment of 197 in K-6, 55 in junior high, and 99 in high school for a total of about 351 students.
Last year's official fall enrollment counts, taken in October, were 187 students in K-6, 52 in junior high and 108 in high school for a total of 347 students.
Choteau Public Schools will again offer breakfast and lunch through the federal school nutrition program, but the food program will no longer be free. The costs of meals for the school year will be $2.25 for K-12 students for breakfast and $2.75 for adults for breakfast, $2.75 for lunch for children in K-6, $3 for lunch for students in grades 7-12, and $4.50 for adults.
Families are encouraged to fill out the forms (available in school or online) to see whether they qualify for free or reduced-cost meals. Call the elementary school office at 406-466-5364 for more information.
Choteau will start the school year with many new faculty and staff faces. Jim Baldwin returns to the school system as a part-time interim superintendent, replacing Chuck Gameon who resigned at the end of last year. Baldwin previously served as a one-year superintendent here in the 2013-14 school year. He is a career educator and administrator who has been working in public education since 1977.
Choteau Elementary School has a new principal, Rachel Christensen, who has 26 years of teaching experience, 19 of which have been at CES. She is attending an internship program through the University of Montana to obtain eight credits needed to get her educational leadership endorsement and become a licensed school administrator. She has a bachelor's degree in elementary education and K-12 reading and a master's degree in K-12 learning development.
Under Office of Public Instruction rules, she has three years to obtain her administrator's endorsement.
Matt Cornelius is the new secondary principal for grades seven through 12. He joined the school system last year as a high school physical sciences teacher and head girls basketball coach. He and his wife, Amanda, who is an elementary teacher, moved here from Wyoming. Cornelius has resigned as a junior high girls basketball coach but will continue as the head CHS girls basketball coach. He replaces Wendi Hammond who retired at the end of the last school year.
Christensen and Cornelius are working with teachers and school staff to be ready for the new school year. Teachers will return to their classrooms on Aug. 25 and 29 for two days of pupil-related instruction.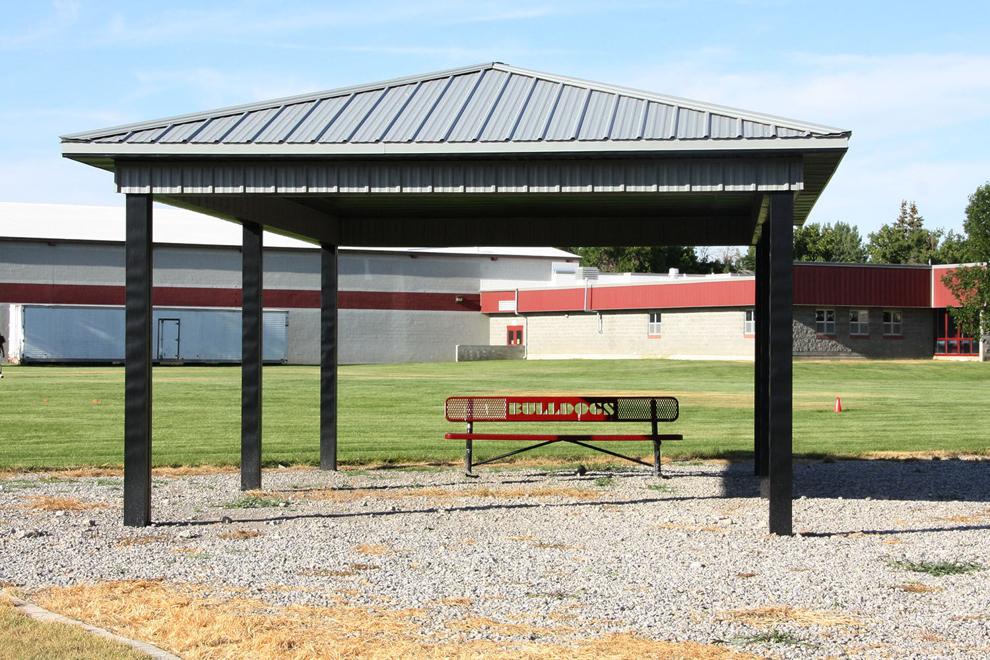 Parents who will have a child starting kindergarten this year are asked to stop by the elementary office before the first day of school to register their child. CES administrative assistant Julie Shepherd will help parents register children. Parents should bring their child's birth certificate and immunization records with them for registration.
Families with new junior high or high school students should contact high school administrative assistant Michaela Zwerneman at 406-466-5303, to schedule an appointment to register their children for classes.
Choteau Public Schools will hold its "Back to School Night" on Monday, Aug. 29. Parents/guardians and students may visit their classroom between 5 and 8 p.m. Teachers will have any information for parents in a printed format so they can give it to them during their visit to the classroom. Students will be able to put all of their supplies in their lockers and can even get a copy of their class schedules.
School will start at 8:20 a.m. for grades K-6 and will start at 8:30 a.m. for grades 7-12. School will adjourn for the day at 3:32 p.m. Monday through Thursday and at 2:30 p.m. on Fridays and the last day of any shortened week. There will also be several Wednesday early-outs this year to accommodate professional development programs for the teaching staff. School will dismiss at 2:30 p.m. on the first day.
Choteau Public Schools employs more than 30 teaching staff members along with Gameon and Hammond, and 30-plus non-teaching workers, including bus drivers, custodial and cafeteria staff, tutors and paraprofessionals.
New to the faculty this year are:
•Roxanna Jensen, who will teach first grade (1A). Hired as a paraprofessional last year, she is now furthering her education to become a licensed elementary teacher. She has a provisional teaching license and has three years to obtain her teaching license from OPI.
•Rebecca Hyde is the new third grade (3A) teacher. She previously taught in Lustre Elementary School and in Wolf Point Elementary School. (She and Christina McCollom have been teaching summer school here so she will be a familiar face to some CES students.)
•Leela Beck is the new sixth grade teacher (6B). She previously worked in a Montessori Preschool and before that she was a full-time substitute at Rattlesnake Elementary School in Missoula. From Big Sandy originally, she is a licensed teacher.
•Marissa Krupa is the new K-12 librarian. She worked in Browning previously in curriculum development and is in an educational program to renew her teaching license as a school librarian. Again, she has three years to complete the process under state education rules.
•Rebecca Dellwo is the new high school science teacher, replacing Cornelius. She and her husband, Chase Dellwo, live in Choteau and she is a licensed teacher who did her student teaching in Choteau.
•Bryce Watterud, a Conrad native, joins the faculty as the 7-12 special education teacher. A licensed teacher, he has been teaching out-of-state.
There are also a number of new paraprofessionals and tutors who will help out in elementary classrooms and with the Title program in the elementary, junior high and high school. The Title I elementary tutor is Josef Neve, the junior high tutor is Shellie Mellinger and the high school tutor is Carla May.
Principal Cornelius reminds parents that students who are involved in all extracurricular activities except band/pep band need to pay the participation fee before their first competition.
High school students must pay $25 per activity with a cap of $50 per family per year. Junior high students must pay $15 per activity with a cap of $30 per family per year. All activities fees must be paid before a student will be allowed to participate in an activity.
All families that qualify for free and reduced-cost lunch will not have to pay any participation fees. Scholarships will be available for students and families to apply for if the participation fees are a hardship. Students will also have the opportunity to work concessions for an event to pay for their participation fees if the scholarship money is unavailable.
Prices for woods classes have stayed the same at: $10 for Junior High Woods, $70 for Beginning Woods and $50 for Advanced Woods.
This year's bus routes are the same as last year as the district again contracts with Parker Passmore of Choteau for route bus services. Any parents new to the district whose children are on bus routes should contact school business manager Patty Mellinger to make sure their addresses are added to the route buses' itineraries.
Cornelius and Christensen said the school's custodial staff has been busy all summer making routine repairs, watering the school's lawns and playgrounds, cleaning and brightening all the classrooms.
Summer maintenance projects include removing wax buildup from the elementary school bathrooms and hallways and repainting in the CES bathrooms. In the school cafeteria, new stainless steel back splashes have been added along with a new hot water heater and plumbing upgrades while a new walk-in freezer has been added outside the cafeteria. Both gym floors have also been refinished.
On the CES/junior high playground, Christensen Construction has completed a new sunshade, where kids can sit on benches beneath an open-air pavilion.
The district is planning for regular fall sports seasons for junior high and high school students with two-a-day high school practices starting on Aug. 12 and the first football games and volleyball matches to be played this week.
Cornelius said he and head Athletic Director John Shepherd have met with coaches at the junior high and high school level to make sure they are all teaching the same skills and using the same terminology to help junior high students more easily transition to high school sports, and strengthening both the junior high and high school sports programs.
New this year, he said, the Montana High School Association has changed its rules on eighth-grade participation in high school sports. In the past, schools had to get permission from MHSA to bring up eighth graders to fill slots in high school sports.
Now, he said, schools can do that without MHSA approval for all extracurriculars except football and speech and drama.
Christensen said students in kindergarten through fifth grade will enjoy a new reading series called Open Court, and teachers have taken training on using the new series. The sixth graders will continue to use the Journeys reading program.
After a two-year hiatus because of the COVID-19 pandemic, the America Reads program will return this fall and the elementary school is signing up volunteers now to be Reading Buddies for children in kindergarten through third grade.
Christensen said she is also bringing back the study club for students in K-6 to come to school to study and do homework from 7:30 to 8:20 a.m. and also get breakfast at school. "Many parents utilized this resource for kids to get help with their homework or for time to get their homework done," Christensen said. Paraprofessional Lori Alzheimer will be staffing the study club in the morning and a second daily session to be offered during the lunch break.
She said she and Cornelius are also working to reestablish the High School Helpers program in which high school students help out as aides in the elementary school.
The elementary school is expecting 32 kindergartners, 29 first graders, 27 second graders, 27 third graders, 28 fourth graders, 25 fifth graders and 29 sixth graders. So far, the school has not been able to fill Christensen's teaching position and is planning to offer just one section of fourth grade, taught by Amanda Walker with a full-time paraprofessional if the number of students goes over 28.
With no high school family and consumer sciences teacher, there will not be an FCCLA club in the high school this year, which means there won't be a Backpack Buddies program to provide in-need students with healthy foods to take home over the weekends. Christensen said she and school head cook Cathy Campbell are working with the Teton Food Pantry to create an in-school pantry that can provide healthy snacks for students in need.
Cornelius said there will be several big changes for students in junior high and high school this fall.
The first big change is that teachers will no longer use letter grades for students in junior high and high school. Instead, they will receive the numerical percentage grade they have achieved in each class. (More information on the school grading program is in this month's school newsletter.)
Secondly, Cornelius said, the school will no longer allow students to carry their backpacks to classrooms. They will be required to leave their backpacks in their lockers and just bring their textbooks and notebooks as needed for each class.
Thirdly, the schedule for classes is being adjusted to create a short, 25-minute flex period right before the lunch break.
"The program that we are implementing is a researched-based program that provides opportunities for all students," Cornelius said. "The time allotted is set in such a way that it provides time for not only students who need a little extra instructional time, but the program also provides enrichment time for other students to excel further in their other activities and classes."
Choteau junior high and high school in the past has run a seven-period day, with each period 52 minutes long, four periods before lunch and three after lunch. This year, each of the regular seven periods will be 48 minutes long. There will be a short eighth period held right before lunch.
Students in seven through 10th grades who are in good standing in their classes will use this time for enrichment. Students in those grades who have missing assignments and who are not in good standing will go to either the high school library (grades seven and eight) or the high school chemistry room (grades nine and 10). There they will meet with their core teachers and work to complete missing assignments and master concepts.
The high school juniors will work with a core teacher doing preparatory work to take the American College Test, a standardized exam the state requires of all students even if they aren't planning to go to college.
The seniors will spend that time with guidance counselor Anita Hauff working on college applications, scholarship applications, writing resumes and cover letters, and otherwise preparing for life after high school.
Cornelius is also changing detention this year, eliminating the lunch-hour detention period and requiring students who are required to serve detention to do so either before school or after school.
The schools will continue to prohibit cell phone use during the school day. Students in fifth through eighth grade will place their cell phones, wireless ear devices and smart watches in a lock box at the start of the day and will not be allowed to get them until after the school day dismisses.
High school students will be required to leave all their smart electronic devices in their lockers throughout the school day, though they may check their messages between classes and during the lunch period.