This summer, travellers moving through Vancouver International Airport (YVR) have more options for a fresh and delicious meal thanks to the installation of SmartVending machines.
UpMeals – Canada's leading fresh food SmartVending provider – recently deployed five of its machines throughout the airport, offering individually-packaged and ready-to-eat salads, bowls, juices, healthy snacks, wraps and more.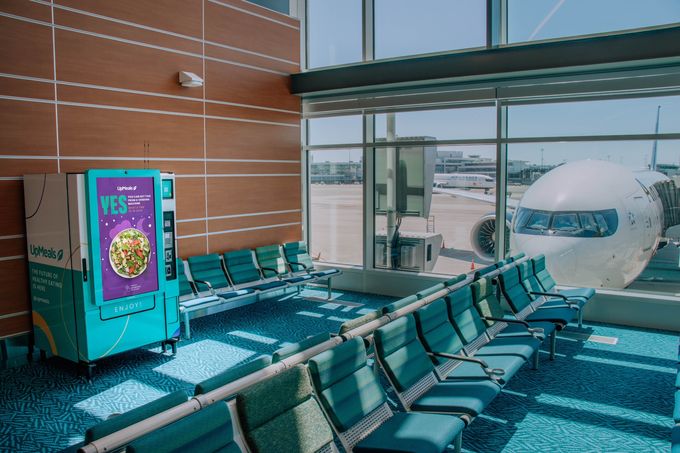 UpMeals SmartVending machines are the first healthy vending machines available at an airport in Canada.
The vending machines help meet increasing passenger demand for more grab-n-go options for early morning and late-night travellers.
These new, first-of-its-kind, innovative SmartVending machines are part of YVR's journey to transform its food and beverage program, offering more fresh, local and authentic options to better reflect British Columbia's incredible culinary scene. 
All five of the machines are located post-security at YVR: three are located in domestic departures, one in U.S. departures and one in international departures.
Each machine is stocked with up to 30 different options for fresh meals, healthy snacks and beverages, such as cold-pressed juices.
The machines also include a meal exclusive to the airport – the YVR Signature Bowl features iconic Vancouver flavours and ingredients, like B.C. smoked salmon, tomatoes, avocado, cucumber, nori and pickled ginger on a bed of steamed sushi rice with UpMeals' miso tamari dressing, for a true West Coast experience in every bite.
The meals in each machine are replenished daily and customers will experience new menu items weekly based on popularity and ingredient seasonality.
These vending machines are just the latest way YVR is improving the travellers' experience through innovative digital solutions.
The YVR Order Now Program allows travellers to pre-order their meals from participating restaurants in advance through a web-based app.
For those who may not be as organized, or may be traveling at odd hours, UpMeals' SmartVending machines provide wholesome meals on the go, that are quick and readily available, 24/7.
Each meal is dispensed in a sustainable, self-contained unit, and can be composted or recycled after use.
The meals are made in a HACCP compliant food production facility, the global standard for food production safety and sanitation. 
Meal popularity is evaluated in the UpMeals proprietary app with menus updated based on the popularity of food items.
All major cashless payment options are accepted including credit and debit cards, as well as ewallets such as Google Pay and Apple Pay.
Some delicious menu items customers can expect to see at the UpMeals SmartVending Machines:
Sweet Chili Chicken Vermicelli Bowl
West Coast Avo Crunch Salad
Chicken Pesto Ciabatta Sandwich
Mediterranean Chicken Wrap
Tuna Tabbouleh Wrap
Miso Soba Macro Bowl
Zesty Buffalo Cauliflower Bowl
Kale Chicken Caesar Salad
Miso Maple Harvest Bowl
Coconut Cashew Energy Bites
Vegan and Gluten Free Cookies
Cold Pressed Juices