The season of sobriety, temporarily spiking gym memberships and parkrun sign-ups, is now well under way, and messages of slimming and healthy eating dominate our screens. Whether it's jumping on the Veganuary bandwagon, a desire to form new habits or simply offset the excesses of Christmas, people everywhere are on a mission to improve their personal health, making this a crucial – and lucrative – time of year for retailers.
Indeed, according to research from Go Compare, 40% of New Year's resolutions are to be healthier1.
And snacking is one category where convenience store owners can make great gains. In 2021, average weekly sales of snack bars in January were 17% more than the rest of the year2. Moreover, in the convenience channel this trend was even more significant, at 21% higher average weekly sales3. Capitalising on seasonal trends isn't a new concept for most convenience store owners, but it's vital to be savvy about the approach to truly benefit from this January uplift and beyond.
Recovery in appetite for snacks
The nation's appetite for convenient snacks has been returning steadily to pre-pandemic levels4. With consumers retaining hybrid working systems, there is a more varied approach to workday mealtimes and new moments in the day when consumers crave food-to-go. But it's important to understand the shift in how consumers are approaching the category and the ways this can influence how retailers manage snacking this season.
Research shows that 80% of consumers are now snacking with purpose5 and seeking out brands that support a healthier lifestyle. Smart snacking dominates, with the majority of global consumers expecting snacks to offer a nutritional boost – and they're even willing to pay up to 30% more for snacks with perceived health and functional benefits6.
This is where retailers can step in and segment the category to support and inspire shoppers to make those healthier choices. As this is the time of year when, more than ever, consumers are looking to address specific diet and health needs through mindful snacking, grouping by function (energy boosting/weight loss and so on) rather than mission can pay dividends.
Fortunately, the growth of the healthy snacking category means products are plentiful, but this also means the fixture can be overwhelming for shoppers to navigate. Guiding shoppers on what nutritional advantages products deliver will complement their endeavours over the next few months, and increase basket spend as consumers see those benefits realised.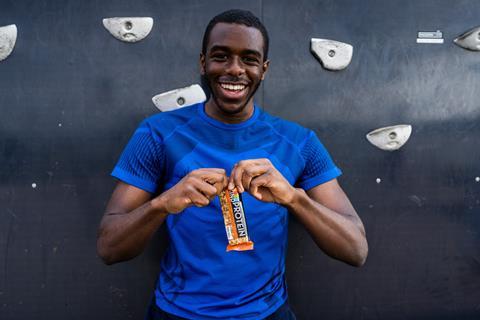 So what are these key function trends to signpost to shoppers?
Weight loss/sustainable diet
According to the British Nutrition Foundation7, making small adjustments towards healthier, more nutrient-dense foods is an easier way to achieve a clean diet as the new year begins. And according to Mintel research, this guidance is now more widely understood among consumers, 78% of whom believe snacking8 can be a part of a healthy diet.
Yet a recent report9 commissioned by the government's obesity research unit explains that Britons are "thwarted in their efforts" to lose weight and make healthy choices due to poor food environments. With unhealthy food options so easy to find, as well as being quick, appealing and cheap to buy, consumers need a food environment that supports them to stick to those new year resolutions and to be healthy.
Signposting protein-rich products will help consumers find convenient ways to satisfy both their hunger and nutritional needs as natural protein-rich foods – such as dried fruit, nuts and seeds – help address issues of satiety in that they keep people feeling fuller for longer and therefore less likely to make unhealthy snacking decisions. Nuts are also high in unsaturated fat (the good kind), which can lower cholesterol and reduce the risk of heart disease.
Energy boosting
Other key trends to consider include increased physical activity, mindfulness and a focus on food and nutrition. Products that provide an energy boost to those who are on a mission to get fit are pertinent as consumers seek out convenient pre- or post-exercise snacking options. Consider featuring products that contain complex carbohydrates, such as wholegrains, which release energy slowly into the body, making customers feel more sustained. Equally, those fortified with vitamins or with nutrient-rich ingredients such as seeds and nuts are key players as these contain minerals including zinc, as well as vitamins E and B, which can help regulate cognitive function10.
Gut health
While shoppers are more health-conscious, grouping snacks by those which boost nutrition through added fibre or protein and those that help consumers get their five-a-day or reach certain lifestyle goals will be key. Digestive health is another trend gaining momentum and a valuable one to draw on when segmenting the healthy snacking category, as over 30% of UK consumers are now seeking foods to improve that aspect of their wellbeing11. It has long been known that fibre is an essential nutrient for digestion and normal gut function, yet most people worldwide do not eat enough fibre, with the average adult consuming only 18g a day. So, signposting those snacks which help consumers meet their daily dose of gut-boosting fibres – such as fruit, wholegrains, nuts and seeds – is vital.
Plant-based
The plant-based trend is of course especially important this month, with Veganuary in full swing. Some shoppers will be entering the category for the first time, and the products they choose are likely to form the basis of longer-lasting habits, according to a survey of 1,000 people conducted by Lumina Intelligence12. The research found only 4% of those who completed Veganuary went back to their old eating habits – 28% went vegan as a result, 33% followed the diet for a short time afterwards and 36% continued to eat plant-based food more regularly.
A plant-based diet involves consuming foods which primarily come from plants, as opposed to only from plants, so many of the products on the market meet this demand. They also help address concerns about removing more traditional forms of protein when following a plant-based diet as many of these snacks contain nuts, seeds and whole grains which help provide essential amino acids and protein.
How to segment the healthy snacking category to capitalise on these trends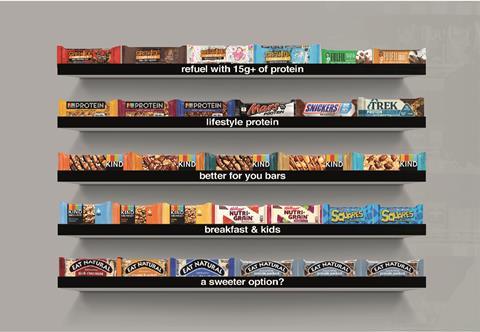 If retailers can hit these key areas through positioning in-store and messaging to consumers in their snacking range, they can help health-conscious shoppers make better choices and grow category sales.
1, Start by carving out dedicated space in store for healthy snacking; do not mix it in with traditional confectionery. Healthy snacking products demand a premium and the value sales impact can be lost when sited alongside cheaper, less healthy alternatives.
2. Locations such as the checkouts and food-to-go section are great places to site healthy snacking and drive incremental basket spend.
3. Where possible, make the most of powerful POS (point-of-sale) from manufacturers – this is an emerging category so special emphasis is required to ensure its presence is felt in-store. For example, Kind Snacks is very vocal about the power of protein from plants and nuts make up the main components in many of its snack bars, providing consumers with a good source of protein to meet many of the functions outlined above.
4. Plan the shelf carefully to maximise sales:
– i. Give healthy snacking the space it deserves in-store, segmenting it by the different consumer needs. Use POS (e.g. aisle fins, barkers, shelf strips or wobblers) to help the consumer find the right product.
– ii. Where possible, create secondary space for healthy snacking. As with other categories, the more times the shopper sees healthy snacking products, the higher the chance they will buy-in. Consider a second siting as part of a link deal with water, juice or coffee.
– iii. Make a clear distinction between different consumer protein needs as outlined in the function trends listed above; this will be key to meeting the various needs of consumers over these next few months.
– iv. Select products that will return profit. In the past, products that touted diet-specific benefits, yet sacrificed taste, were the standard. Now, however, that is no longer the case and indeed the majority of consumers seek permissible indulgence13 – better taste combined with better-for-you attributes. Kind offers an extensive portfolio of added-value convenient nutrition-rich snacks, which meet the demands of today's health-conscious and time-poor consumers with deliciously nutritious snacking solutions. It delivers the fourth-highest value rate of sale of all snack bar brands in convenience14, making it an ideal and less traditional brand to feature on shelves to appeal to shoppers.
For more details on how Kind Snacks can help you organise and maximise your snacking sales during this critical time of year, please contact alice.jeavons@kindsnacks.co.uk or visit https://www.kindsnacks.co.uk/ 

Sources
1 https://press.gocompare.com/news/new-years-resolutions-23-million-resolve-to-make-2021-healthier-and-happier-1
2 Nielsen Scantrack UK, Convenience, Total Snack Bars, 2019-2020
3 Nielsen Scantrack UK, Convenience, Total Snack Bars, 2019-2020
4 https://www.thegrocer.co.uk/category-reports/in-for-lunch-food-on-the-go-category-report-2021/662539.article
5 Behavioural Architects Snacking Research 2019
6 https://www.conveniencestore.co.uk/category-management/healthy-snacking-everything-you-need-to-know-about-managing-the-category/660331.article
7 https://www.bakeryandsnacks.com/Article/2020/01/02/A-different-approach-to-new-year-s-resolutions-Ditch-the-diet-and-snack-simple
8 78% of whom believe snacking
9 https://www.theguardian.com/society/2021/dec/27/uk-obesity-strategy-unhealthy-food-environment-report
10 https://www.advancedneurotherapy.com/blog/2015/02/06/brain-function-nutrients
11 MMR Research, May 2020, sample = 1813 consumers
12 https://www.thegrocer.co.uk/trend-reports/natural-ingredients-simple-swaps-and-year-round-habits-10-charts-explaining-uk-attitudes-to-veganuary/663174.article
13 http://mintel.com/blog/food-market-news/the-rise-of-permissible-indulgence-and-frozen-snacking
14 Nielsen Scantrack UK, Convenience, Total Snack Bars, w/e 04.12.21